Cranberry Conditioner
with cranberry seed oil and thyme extract
A great natural conditioner that nourishes and hydrates your hair and balances the scalp with powerful cranberry seed oil and calming thyme extract.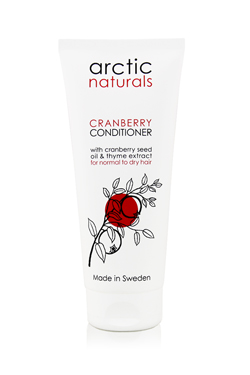 Our cranberry conditioner is especially made to give back luster and vitality to even the most damaged hair. Thyme extract works as an antiseptic and helps against itchiness and other problems of the scalp. Cranberry gives the hair back its shine with high doses of antioxidants and nourishes it with omega 3, 6 and 9. After use your scalp will feel rehydrated and calm and your hair will be shiny and naturally beautiful.
About Cranberry
One of the more known berries for its health benefits from the Arctic region is cranberry. Cranberry seed oil is packed with omegas 3, 6 & 9 and vitamin E and it is very nourishing oil that rejuvenates the scalp and the hair. Used in our Cranberry Conditioner it is a great way for you to naturally care for your hair and scalp.