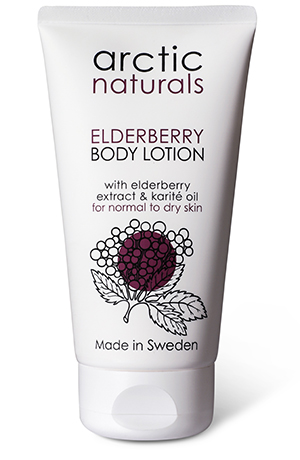 Naturally purifying body wash that gently cleans and tones the skin, leaving it feeling fresh and energized throughout the day.
Rich moisturizer that softens and smoothes dry skin and protects it with high doses of antioxidants.
Our Elderberry Body Lotion nourishes and moisturizes your skin with mango butter and Karité Oil (liquid shea butter). It is rich in antioxidants and helps restore skin balance and protect it from dryness, damages and irritations, giving it back its lustre and beauty. Use it every day after a bath for naturally soft, smooth and happy skin.
About Elderberry
People of the North believed that the elder tree was sacred. Both the flowers and berries are used in culinary and folk medicine. Elderberries, the fruits of the elder tree, have been used medicinally for hundreds of years. Elderberries are rich in anthocyanidins that combine to give elderberry juice an intense blue-purple color.
The elderberry extract contains strong antioxidants. It is used in Elderberry Body lotion because of its powerful regenerating and softening properties.