Arctic Naturals by Ecouna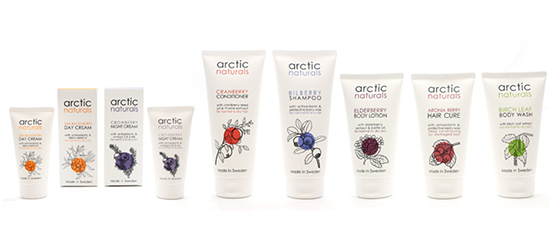 Inspired by pure Arctic nature
At the end of the long and cold winter the Arctic plants are using the short summers, nurtured by the midnight sun and the clean Arctic water, to grow fast and collect the nutrients needed for the soon approaching cold. Living in this harsh climate makes the plants become nutrient rich, containing much higher amounts of active compounds then the plants growing in gentler Southern climates. These plants are the inspiration and the active ingredients in the Arctic Naturals range of natural cosmetics.
Sustainable Use of Arctic Wilderness
Not far from the place of harvest the valuable fatty acids, vitamins and antioxidants are extracted from the plants and berries for the use in Arctic Naturals products. The purity of the raw materials and the high quality of the manufacturing process make the Arctic Naturals efficient beauty care products. This is our way of making sustainable use of Arctic wilderness.
By using the latest research results we create modern, safe and innovative products. Our products comply with strict Swedish regulations and have state of the art formulations and active ingredients extracted from Arctic berries and herbs. Our production methods have a minimal impact on the environment and our packaging design has an environmental focus.
Rabbits are our friends, that is why we do not test our products on animals.