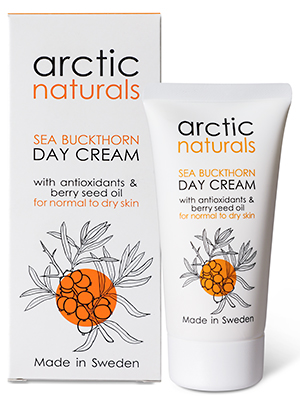 Our Sea Buckthorn Cream has a perfect combination of great skin nourishment and lightness, giving your skin the necessary protection during the day without feeling greasy. It is made from natural ingredients that suit for the most sensitive skin. Because of its high antioxidant content it leaves your skin feeling energized and balanced during the whole day.
About Sea Buckthorn Oil
Due to its unique bio properties sea buckthorn oil has strong anti-aging properties. Sea buckthorn oil accelerates the epithelisation and regeneration of the skin tissue. It also contains a large amount of natural vitamin E and C and acts as a powerful natural antioxidant. It softens and nourishes the skin without disrupting cell respiration.
One of the amazing properties of sea buckthorn oil is that it protect from both UVA and UVB radiation. The sun protection factor is not high (SPF 5) but it is completely natural and acts without chemicals or minerals. An extra gift for those who use Sea Buckthorn Day Cream.
In our day cream sea buckthorn oil moisturizes and rejuvenates the skin, removes the feeling of tightness, restores skin elasticity and softness.